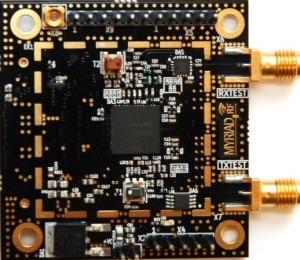 Europractice will promote Lime's LMS6002D field programmable RF transceiver and associated boards for use in research and teaching of wireless technology to its member establishments throughout Europe.
The boards include Azio's Myriad RF-1, an open source board created for Lime's non-profit MyriadRF open source RF hardware design initiative.
"Many European universities are leaders in the field of wireless technology, and I believe that the products will find numerous teaching and research applications," said Dr John McLean, division head at the Microelectronics Support Centre at the STFC Rutherford Appleton Laboratory.
"The field programmable feature is especially attractive as it allows the reuse of the device in a teaching environment," said McLean.
According to Ebrahim Bushehri, CEO of Lime Microsystem: "This is a significant endorsement for the open source community of MyriadRF."
The community is being supported by an open-source website with support forums, board designs, data sheets, FPRF configuration software and downloads for a growing number of projects.
The RF transceivers are software configurable for all major wireless communication frequency bands (300 MHz to 3.8GHz) and standards (including LTE, HSPA+, CDMA and 2G).
The Myriad-RF board is designed to be connected to Altera and Xilinx development boards. A universal wireless toolkit also supports Altera evaluation boards.