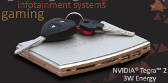 Key to the product is 1080p video playback combined with 3W power consumption.
Applications are expected in graphic-rich embedded applications such as security, IPTV, infotainment systems, digital signage, gaming and industrial controls, as well as thin clients.
It is offered with Linux, and Android will be available soon, said AndersDX; "Developers are encouraged to port other Linux flavours or other operating systems to further enhance the multiple application usage of this hardware platform."
There are actually two display outputs: one full HDMI (1.3a, 1080p) and one DVI-D.
This version of Trim Slice is supplied with 1Gbyte of DDR2 memory and a SATA solid state disk with support for up to 64Gbyte.
For removable storage, there are two slots: one full-sized SDHC and one micro SDHC.
Integrated features include 802.11n Wi-Fi, Bluetooth, 5.1 channel S/PDIF audio, four USB 2.0 ports and a serial port.
The computer is available now, and andersDX is also looking to expand its network of partners to development plug and play software and hardware for a range of vertical markets.