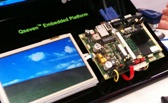 According to Congatec, Intel's discontinuation of the 855 chipset family left a major gap in the market particularly for ETX computer modules, which primarily affected the higher performance range of applications.
"This gap has now been closed by processor manufacturer AMD with the Fusion architecture, which also opens up new graphics-oriented applications," said the supplier.
The firm's AMD Fusion architecture-based ETX and XTX COM modules are the conga-EAF and conga-XAF.
The difference between the XTX and the ETX standard is that XTX no longer supports the ISA bus, but instead a four-lane PCI Express bus.
XTX also has more S-ATA and USB interfaces than ETX.
The company offers a choice of five AMD embedded G-Series processor options ranging from a single-core 1.2GHz AMD T44R (64Kbyte L1 cache, 512Kbyte x2 L2 cache) with 9W TDP, to a 1.6GHz dual-core AMD T56N (64Kbyte L1 cache, 512Kbyte x2 L2 cache) with 18W TDP.
There is a graphics core with the Universal Video Decoder 3.0 for MPEG-2 HD and DivX (MPEG-4) videos and it will support DirectX 11 and OpenGL 4.0 for fast 2D and 3D imaging as well as OpenCL 1.1.
There are two independent graphics controllers providing a VESA-compliant video output with resolutions of up to 2560 x 1600 pixels.
Undeniably, it is Intel and ARM-based processors which define the embedded module market in terms of power and performance, with integrated graphics and floating point units almost a given.
MSC has an ARM processor-based Qseven module. Designated the Q7-NT2, the 5W module is based on the NVIDIA Tegra 290 processor with dual core ARM Cortex A9, which is clocked with up to 1GHz.
The ARM/RISC processor architecture is supported by the Qseven Specification starting with revision 1.20, which was released in September of 2010.
Up to 1Gbyte DDR2 SDRAM and a NAND flash memory with a maximum capacity of 8Gbyte are integrated on the module.
Kontron has introduced a double-width AdvancedMC processor module built around an Intel Core i7 Mobile processor.
The Core i7 processors were first designed into COM Express computer modules little more than a year ago. The impact on performance was obvious.
Three versions of the 32nm Core i7 processor are available, running at 1.06GHz, 2.0GHz and 2.53GHz clock speeds with respective power consumptions of 17W, 25W and 35W TDP.
The implementation of hyper-threading technology means the 2.53GHz dual-core processor can run parallel, multi-threaded applications.
The AM5020 module's Intel Core i7 processor is coupled with the QM 57 platform controller hub (PCH) and supported with integrated memory controller, PCI Express Gen2 I/O and Intel HD graphics.
With support for PICMG AMC.1/.2/.3 sub-specifications, the module's interfaces include eight PCI Express lanes to the backplane configurable as 2 x PCIe x4 or 8 x PCIe x1. There are also four Gbit Ethernet interfaces.
There is a DVI-D interface at the front combined with two USB interfaces, two Gbit Ethernet and a serial port via RJ45.
Typical MicroTCA applications include telecoms gateways and switches, as well as applications in medical, automation and security.
The AM5020 module supports Windows XP, Windows 7, Windows Server 2008, as well as VxWorks 6.8 and Wind River Linux PNE 3.0.2.
Intel's low power Atom E6xx processor has established itself in embedded market offer sub-5W modules as well as hyperthreading.
Hyperthreading technology allows the logical division of the physical processor core for multi-processing with two separate processors. This means that safety-critical applications can run on a real-time operating system on a logical core that is separate from the graphical user interface which, for example, can run on a Windows operating system.
An example is the conga-CA6 module offering 600MHz, 1.0GHz, 1.3GHz and 1.6GHz Atoms with 512kbyte L2 cache and up to 2Gbyte of DDR2-RAM.
The integrated 3D-enabled graphics engine has received a 50% performance boost and can accommodate up to 256Mbyte frame buffer.
MSC has developed a scalable embedded computer module family based around ARM processors.
Drawing on the pin compatibility of various ARM CPUs, the nanoRISC modules offer processor options from ranging from ARM9 derivatives clocked at 400MHz up to 1GHz Cortex-A8 cores. The ARM processors ensure low power consumption which is specified at less than 3W for the 50mm x 70mm modules.
The first member of the family is a nanoRISC module, based on the Samsung Cortex-A8 S5PC100 processor, with up to 667/833MHz clock frequency, maximum 512Mbyte DDR2 SDRAM, up to 4Gbyte NAND flash memory (NAND, eMMC and SD/MMC), audio and touch support, real time clock, system monitoring, watchdog and many other features.
Interfaces such as Ethernet, USB, CAN, UART, I2C, SPI, GPIO, camera, audio, ADC, touch and display are available via a 230-pin MXM connector.
The 2D/3D graphics engine integrated on the S5PC100 supports video resolutions up to 720p.
There is a baseboard which can be used as a starter kit for the development of hardware on the basis of the respective Samsung processor, which is also available from MSC.
Linux and Windows CE are offered as board support packages.