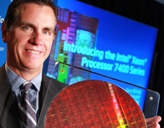 The processor firm has quietly acquired Silicon Hive, a Dutch video processing spin-out of Philips.
The intention is clear, to add its own imaging and video acceleration IP to its Atom-based mobile phone platform.
This will position it in the mobile system-on-chip market against rivals like, Qualcomm, ST-Ericsson, TI and Nvidia.
Currently Intel licenses the Power VR SGX grahics processor core from UK-based firm Imagination Technologies.
Silicon Hive has dedicated video processor IP as well as compilers and software tools.
Silicon Hive has semiconductor IP for a new type of low power programmable device for imaging, video and wireless communication applications.
Its programmable technology has already been used in a digital camera image processor, a Full HD picture processor, Wimax baseband chip, and a multi-standard digital TV receiver.
Intel has invested in the start-up and worked with it since 2008.
Intel signalled its renewed inetrest in mobile phone silicon to fit around its Atom processor when it acquired Infineon's wireless chip business last year.
That gave it access to baseband modem technology for 3G and LTE mobiles.
Intel outlined its plans for silicon platforms to support 4G LTE mobiles at Mobile World Congress in Barcelona last week.
But the 4G market is all about smartphones and that requires multimedia support and open source software platforms.
Last week, the company's investment arm, Intel Capital made six new investments in various mobile and open source software companies.
The deals representing a total investment of $26m included open source mobile software solutions company Borqs, a location-based mapping platform and tools provider CloudMade and image sensor vendor InVisage.
There was also investment in open source online video platform Kaltura, online authentication provider SecureKey Technologies and unified communications and collaboration service software provider VisionOSS Solutions.
The six companies will feed into Intel's intention to support mobile ecosystems running on both its own MeeGo open source OS and the widely adopted Android OS.
"These investments represent innovative companies that Intel is working with to help advance our mobile platform initiatives across smart device segments including handheld, tablet and notebook businesses," said Anand Chandrasekher, Intel senior v-p and general manager of the company's mobile group.