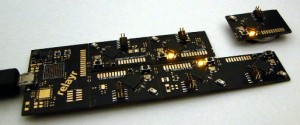 At least, it will be if a funding project on Dragon Innovation goes to plan.
Designed to snap apart like a bar of chocolate, the hardware is a single board that breaks into: a main terminal board, three sensors boards (light/colour/proximity, gyroscope/accelerometer, thermometer/humidity), an infra-red board to control a home entertainment system, and two more functions to be defined by funders. Each node has a push button and an LED for human intervention over the Bluetooth network.
Take the Electronics Weekly Salary Survey 2014 »
The main board has a Cortex-M3 processor clocking at up to 180MHz, and the sensors have 16MHz Cortex-M0s.
"The WunderBar is the easiest way to start developing apps for the Internet of Things without needing to learn about hardware," claimed Relayr, the Amsterdam firm behind the kit. "It packs Bluetooth Low Energy and WiFi, together with SDKs [software development kits] for iOS, Android and Node.js. App developers can access data from the physical world with the SDKs or with our REST API."
The firm is evangelical on the potential of the IoT: networks of low-cost wireless sensor nodes using Internet protocol.
"Update your online shopping list when there is no more toilet roll. On vacation? Program an app for your plants to alert the neighbours when its watering time. Never drink a cold coffee or a warm beer again, the temperature sensor can warn you before it's too late," it said.
On this last use, the kit includes a demonstration and tutorials.
"With the WunderBar 'Hello Thermometer' tutorial, you can have your first IoT app up and running in less than ten minutes. We provide the libraries, tutorials and examples you need to start using the sensors in your environment," said Relayr. Apps are developed "with Xcode, Android SDK, or text editor with command-line compilers, with the added benefit of being able to access data from the physical world."
The firm envisages apps working through its OpenSensor Cloud.
"The Internet of Things will become pervasive only if it is ambient. OpenSensor Cloud connects your home with services and APIs, such as weather, traffic, and news feeds across the internet, offering a layer of device integration. Our Rules Engine means that decisions can be made in the cloud, instead of constantly annoying the user with dozens of notifications requiring a decision," said the firm. "You will be able to create apps and services that entertain, inform, and protect your users. The cloud platform gathers sensor data and persists it so that you can access it programmatically from within your app. You can define rules that act upon the sensor data, triggering notifications to your app, and even make decisions whilst your app is unavailable."
And on the subject of security Relayr said: "Security for low energy devices over domestic networks is a challenge. We are working with partners to build the highest possible level of security into devices. Security is baked into our cloud solution with APIs exposed exclusively through OAuth2."
iPhone and Android apps allow users to create a secure connection between sensor modules and the relayr Cloud. "Pressing 'Secure-It' creates unique certification for your WunderBar, allowing secure SSL connection to the cloud transmitting encrypted data," it said.
The intention is for much of the intellectual property to be open.
"Our APIs will always be open. Wherever possible we will be open-sourcing our hardware too," said Relayr. "After releasing the first prototypes of the WunderBar, we will be uploading our Eagle schematics and layouts to our GitHub account."
Mainboard at a glance
NXP LPC1837-based
ARM Cortex-M3 up to 180MHz in
1Mbyte flash
136kbyte RAM
12 GPIO pads (including 4 ADC, SPI, I2C and SDIO)
WiFi (802.11b/g/n, WPA/WPA2)
TCP/IP stack including TLS
Bluetooth LE
3.3V regulator (including Li-Ion/LiPo charger)
USB OTG
Sensor boards
16MHz Cortex-M0
16kbyte RAM
8 GPIO pads, including SPI, I2C, TWI, UART, ADC
Bluetooth LE