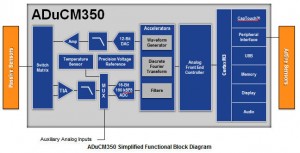 ADuCM350 has a 16bit analogue front-end (AFE) which includes a multi-sensor switch matrix, hardware waveform generator, discrete Fourier transform (DFT) engine, and an ARM Cortex-M3 microcontroller.
Applications are expected in point-of-care diagnostics, home self-test health devices, wearable vital signs monitors, and sports and fitness monitors.
The auto-calibrating AFE includes a 16bit 160ksample/s ADC, +/-0.2% voltage reference, and 12bit no-missing-code DAC.
"Passive complex impedance sensing enables baseline detection and detailed information of physiological, biological and electrochemical reactions, at levels previously unattainable," said the firm. "The fusion of passive and active sensors provides an additional level of signal measurement accuracy, and environmentally robust capacitance-to-digital technology supports new use cases such as skin electrode detection and next-generation electrochemical test strip technologies."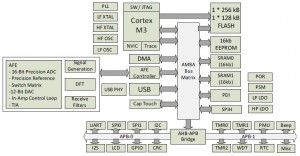 An example of sensor fusion, according to the firm, is calorie burn estimation by combining galvanic skin response for heart rate and respiration, with a three axis MEMS accelerometer for altitude and motion detection.
I/O peripherals include: USB, audio, display, serial and touch.
supports differentiation and rapid feature expansion. The ADuCM350 AFE sequencer enables designers to develop the software for a measurement procedure only once and then reliably port it across an entire product family.
The Cortex-M3 runs at 16MHz and hax 384kbyte of flash, 16kbyte EEPROM, and 32kbyte SRAM, as well as hardware accelerators for waveform generation and filtering.
It is sampling now with production slated for April.