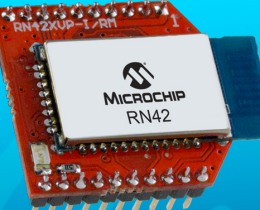 The Wi-Fi offerings comprise IEEE 802.11b/g Wi-Fi modules with Microchip's free source-code TCP/IP stack running on a PIC microcontroller.
Microchip is also adding a low-power 2.4GHz radio that supports, for the first time in one chip, both the IEEE 802.15.4 and proprietary data rates (from 125 kbps to 2 Mbps), including the ZigBee, MiWi and other proprietary protocols.
Examples of low power radio applications include battery-powered home and industrial automation wireless-sensor mesh networks, as well as ZigBee RF4CE-standard-based remote controls.
Microchip's next-generation, 2.4 GHz IEEE 802.15.4 MRF24XA transceiver radio has an operating voltage range of 1.5 to 3.6V and receive power consumption of only 13mA.
The low-power and agency-certified MRF24WG0MA/MB modules connect at all IEEE 802.11b/g data rates, up to 54Mbit/s, and are Microchip's first to support a sustained throughput of 5Mbit/s.
The PIC32 Bluetooth audio development kit builds on an existing stack-integrated Bluetooth audio module with a new low-cost, agency-certified Bluetooth HCI transceiver module based on a standard radio, AVRCP and A2DP Bluetooth profiles tailored for the PIC32, as well as both standard and advanced audio CODECs such as SBC, AAC and MP3.