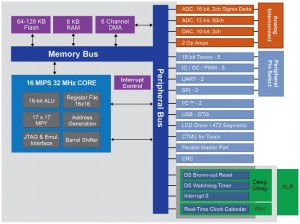 Called the PIC24FJ128GC010, the chip integrates a 16-bit ?? ADC, a 10Msample/s 12bit pipeline ADC, twin 10bit DACs (http://ww1.microchip.com/downloads/en/DeviceDoc/39615A.pdf), dual op-amps, USB-on-the-go, and a 472 segment LCD driver.
?? performance is 976sample/s at highest quality, and 62.5ksample/s at highest speed.
The data converters have come from a variety of sources, all in-house, Microchip told Electronics Weekly: the 12bit ADC is all-new, developed for this chip and a forthcoming device; the 16bit ADC is based on a stand-alone ADC made by the firm on a different process, and the DACs have been moved over from existing devices to the 24FxxGC process.
Digitally, the processor executes at 16Mips and has 128kbyte of flash. There is also a 64kbyte 24FJ64GC version.
Aimed at portable medical and portable industrial applications, the device runs at 180µA/MHz and has various sleep modes including 400nA real-time clock and calendar sleep, and 18nA deep sleep.
"This combination of analogue integration and low power consumption reduces system cost and noise, and improves signal throughput in applications such as portable medical monitoring devices, for example: blood-glucose meters and blood-pressure monitors, as well as potable industrial applications such as voltage monitors, current monitors, gas sensors and high-speed sensor arrays." said Microchip. "USB supports the uploading of clinical data for medical equipment, and can act as a service/data port for industrial equipment."
As well as the LCD driver, which can deal with scrolling alphanumeric banners, user interfacing includes a capacitive touch-sensing peripheral.
There is a starter kit: 'MPLAB starter kit for PIC24F intelligent integrated analog' (DM240015), which is available for $89.99 for a limited time.
"This kit is focused on the family's integrated analogue to preserve signal integrity," said the firm, claiming: "It provides 95% of what designers need to develop a handheld analogue prototype. All they need to do is add sensors".
TQFP (100 and 64 pin), BGA (121pin), and QFN (64pin) packages are available.