The Space Kit is part of a larger littleBits open source library and uses the modular design platform for use in schools and by hobbyists and engineers. There are 12 modules, five NASA lesson plans and 10 hands-on projects spanning multiple areas of NASA science and engineering.
NASA-designed projects include building a model Mars Rover and wirelessly transmission of music to the an International Space Station model.
"Explorers can now learn how scientists communicate with a spacecraft billions of kilometres away, transmit electromagnetic energy, see sound energy and explore first-hand how the AURA satellite senses gases in our atmosphere – plus hundreds more lessons and projects available for free online," said littleBits.
littleBits has created the open source design platform of electronic modules that snap together with magnets. Intended to introduce students to the potential of electronics design no soldering, wiring, or programming is required.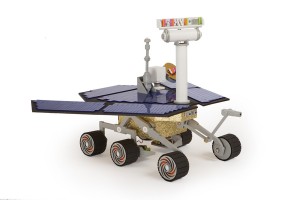 There are three new design modules - IR LED, Number and Remote Trigger, which can be used with modules in the extended littleBits library to create different circuit designs.
"With the littleBits Space Kit, we aim to bring space closer to home by putting the building blocks to invent, learn and explore directly into the hands of educators, students, NASA enthusiasts and builders of all ages," said Ayah Bdeir, littleBits founder and CEO.
Related news:
Arduino module for littlebits