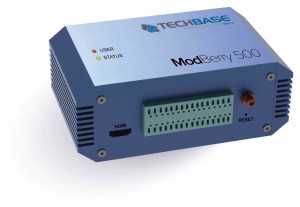 Techbase, said the device which it has dubbed ModBerry is designed to be used in automation and installation markets providing multi-level user access cloud management.
It designed around the Raspberry Pi Compute Module's 700 MHz Broadcom processor with 512 MB of RAM and 4GB NAND flash storage.
Its interfaces include RS 485/232 serial ports, CAN and very economical 1-Wire buses, all of which are widely used in automation industry.
There are Ethernet, USB and HDMI ports and wireless communication, such as Wi-Fi, LTE/3G/GPRS cellular modems or Bluetooth technology.
Bartosz Bielawski, marketing manager at Techbase said he believes the Raspberry Pi is here to stay "as a new standard in embedded computing industry".
The device is also backwards compatible with the original Raspberry Pi board.
It uses Raspberry Pi's supports free Raspbian operating system, based on Debian GNU/Linux.
The company has also developed its own software specifically for automation and installation markets, which includes iMod, iModCloud and iModWizard.
Apart from the basic installation management like software updates or device grouping and aforementioned access control, iModCloud sports numerous other functions like data visualization capabilities – through data tables or charts, maps, with GPS-enabled devices marked on them, file management and a robust notification, custom-based actions system.