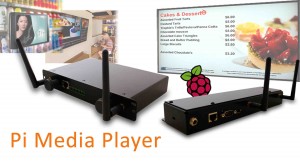 Both CPU and graphics processor are Broadcom chips.
US-based start-up Jetpac runs image recognition software on the Raspberry Pi's graphics processor (GPU).
According to Pete Warden, chief technology officer at Jetpac, Raspberry Pi can be used for image recognition systems due to its embedded GPU for heavy lifting on the math side, to process a frame in around three seconds.
Anders Electronics is another company impressed by the Raspberry Pi's GPU.
With its embedded computing subsidiary TinyGreenPC, AndersDX has come up with a digital signage media player which also makes the most of the GPU on the Raspberry Pi computer.
"The Raspberry Pi has a hugely powerful graphics processor on board, which is fully capable of matching a high end dual or quad core x86 PC in terms of quality of graphics and video output," said Paul Mullen, sales director, Anders Electronics.
With design firm Silver Curve, Anders has created a graphics engine that harnesses the full power of this processor to display complex digital signage content.
The GPU has the capability to provide profession-class features like multiple zones, multiple layers, smooth animation and cinematic effects such as depth of field.
"We have already integrated three leading digital signage content management systems onto the Raspberry Pi, giving users a fully professional platform," said Mullen.
The Raspberry Pi based player is available fully cased as a stand alone media player or an OPS media player based on Intel's specification.
Both can receive content via Ethernet or (optional) WiFi and render it to an attached screen of up to 1920 x 1080p (Full HD) resolution.
The stand alone player is equipped with HDMI, RS-232, Ethernet, GPIO and USB 2.0 Interfaces.
The players draw just 7W and a UPS mode maintains the power supply from a battery for seven minutes in the event of temporary disconnection.
The media player platform supports Signagelive, INSM and Open Splash content management systems and has a £300 price tag.