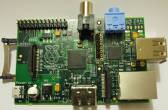 Much awaited, it should be availble in the next week or so.
Its designers were inspired by the likes of the Sinclair Spectrum and BBC Micro – computers that hugely boosted UK computer literacy. And like those classics, you can just plug Raspberry Pi into a TV, and go. Unlike the 1980s machines, it has a powerful CPU and, as game-playing is part of the bait that will draw users in, a serious graphics engine.
Even though it only consumes 3.5W max, its graphics are roughly equivalent to those in the Xbox 1. The SoC will perform something like a 300MHz Pentium 2, "only with much, much swankier graphics", said the Raspberry Pi Foundation – the self-funding educational charity set-up by the original team to support the computer.
It is an Arduino on Steroids, or a Beagle Bone for less. Raspberry Pi has already attracted a community of open-source developers and educational organisations. But this is a charity and more help will increase the foundation's chance of meeting its educational goals. "We want to emphasise the extent to which we're relying on the engineering community to make something of the device; it's very usable out of the box, but we're hoping that people will pick it up and run with it," Raspberry Pi Foundation executive director Eben Upton told Electronics Weekly.
"Some of the things we've heard people wanting to do – from robotics to home automation, to sending Raspberry Pis into space – are completely mind-blowing. It's these things as much as anything that we hope will help inspire young people to get involved in computing."
At its heart is an ARM-based SoC, the BCM2835m from Broadcom. The core is a 700MHz ARM1176JZFS (F=floating point extension), alongside a Videocore 4 graphics processor (GPU) that can playback BluRay using H.264 at 40Mbit/s and do parallel number-crunching for the core. "The GPU provides Open GL ES 2.0, hardware-accelerated OpenVG, and 1080p30 H.264 high-profile decode," said the foundation. "It is capable of 1Gpixel/s, 1.5Gtexel/s or 24Gflop of general purpose compute, and features a bunch of texture filtering and DMA infrastructure."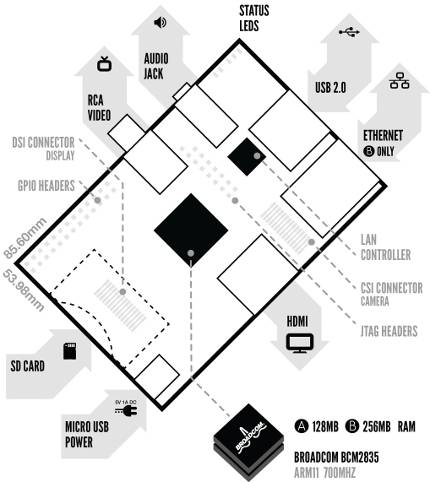 Package-on-package mounted over the SoC is a 128Mbyte RAM for the Model A Raspberry Pi, and 256Mbyte for the Model B – the 'Model x' nomenclature tips its hat to the BBC micro. Both are 86x54x17mm (plus connector ends) and weigh 45g. Model A has one USB 2.0 port and no Ethernet; Model B has two USB 2.0 ports and 10/100 Ethernet – all from a SMSC LAN9512 chip.
Although the computer comes from Cambridge, it is priced in dollars: $25 for Model A and $35 for B. It will be sold only through the foundation website, starting in a week or two.
For direct TV connection, the main video interface is HDMI (sound over HDMI is supported). Non-HDMI monitors will need an external HDMI-DVI adapter. Then there is composite video for analogue TVs, but no VGA for analogue monitors. Audio comes out through a standard 3.5mm jack, while voice input needs a USB microphone.
Mouse, keyboard, network adapters and external storage connect through the USB sockets, via an external USB hub if necessary. An SD card slot is provided for main memory, and booting has to be from this and nowhere else, but a USB hard drive can take over after initial boot.
Cards up to 32Gbyte have been tried, with some working better than others – see the foundation website for details. Re-flashing the card restores harmony if the user screws up the operating system.
Wi-Fi can be added by plugging in a suitable dongle. "ARM Linux Wi-Fi support can be a bit patchy," warns the foundation. "There's a list of tested dongles on the website."
The SoC offers: timers; an interrupt controller; GPIO (to the edge of the board); USB; PCM/I2S; a DMA controller; an I2C master; an I2C/SPI slave; three SPIs; PWM; and two UARTs.
Broadcom has released a programmer's peripheral model for operating system developers, also available from the foundation website. There is no real-time clock (RTC). "Adding an RTC is surprisingly expensive, once you've factored in batteries, area and componentry. The expectation is that non-network connected units will have their clocks updated manually at start-up," said the foundation.
Power needs are 5V at 300mA-700mA (depending on attached loads) through a micro-USB connector. "The device should run well off four AA cells," added the foundation.
Raspberry Pi will ship as bare-board, with a case planned as a separate accessory.
Fedora Linux is the recommended operating system, with Debian Linux and ArchLinux also supported from the start – initially as downloads, plus as pre-programmed SD cards later. Ubuntu is not yet supported. "Ubuntu can't commit to support Raspberry Pi at the moment. It's straightforward to replace the root partition on the SD card with another ARM Linux distribution if you want to use something else," said the Foundation. "If someone can port a version of Android to work with 256Mbyte of RAM, then it'll run on the Raspberry Pi."
The Debian SD Card image was posted on Friday
Windows, even the ARM version of Windows 8, will not run.
Python will be supported for educational purposes, and "any language which will compile for ARMv6 can be used, so you're not limited to Python", added the foundation.
Endless applications away from education will also tempt buyers. The open-source media cent re programme XBMC has already been demonstrated on a Raspberry PI, so you can have a media centre for $25