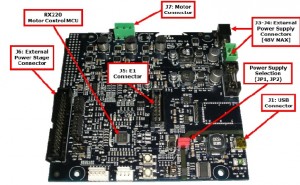 The inverter kits are based on Renesas' 32-bit RX family of MCUs, with one kit on RX220 offering 50DMIPS and the other on RX62T offering 165DMIPS.
The RX220 inverter kit is designed for equipment requiring medium dynamics while the RX62T microcontroller offers higher positional accuracy with six operational amplifiers, six comparators, a floating point unit and two timer units to drive two 3-phase motors simultaneously.
Both kits feature a sensorless vector control algorithm, which is used to accurately control the speed and the torque. This algorithm uses flux weakening in order to achieve rotation speeds higher than the nominal speed of the motor.
Each kit contains the YROTATE-IT inverter board, a 24Vdc permanent magnet AC motor, a CD-ROM including the embedded software source code, the PC GUI, the board schematics, the bill of materials, Gerber files, user manual, quick start guide and the power stage schematics/Gerber files.