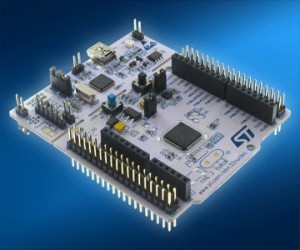 Called STM32 Nucleo the boards also incorporate ST's own Morpho extension headers which give access to all of the microcontroller's on-chip peripherals.
As this is an mbed-enabled board, developers can make use of the ARM-driven mbed open source software platform, online tools and collaboration infrastructure at mbed.org.
The mbed Compiler provides a free online IDE that is powered by the ARM professional C/C++ compiler, pre-configured and tested to generate efficient code.
While the Arduino headers give access to the popular development environment.
ST also has its own shields supporting functions such as Bluetooth LE or Wi-Fi connectivity, GPS and audio.
The board allows for "fine-tuning of both hardware and software on-the-fly at each prototyping stage", said the supplier.
The first four STM32 Nucleo boards will support the STM32 F1, L1, F4, and F0 microcontrollers.
The STM32 Nucleo-F030R8, STM32 Nucleo-F103RB, STM32 Nucleo-F401RE and STM32 Nucleo-L152RE are priced from $10.32. The STM32 Nucleo-F072RB, STM32 Nucleo-F302R8, STM32 Nucleo-F334R8, and STM32 Nucleo-L053R8 boards will be introduced during Q2 2014.
Mouser Electronics stocking the Nucleo development boards for ST's STM32 MCU families featuring ARM Cortex-M0, Cortex-M3, and Cortex-M4 microcontrollers.