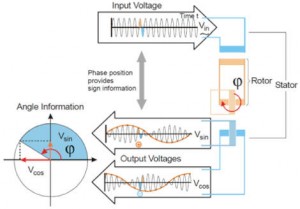 Resolvers are brushless rotary transformers used in servo systems for long-life precision position feedback.
The firm's C2000 'MCU Resolver Kit' implements resolver-to-digital conversion using software on a C2000 32bit DSP.
"It extends functionality by allowing a microcontroller to handle resolver-to-digital decoding, as well as other software-programmable real-time functions, such as additional ADC sampling and processing, encoder and Hall interfaces, DSP front-end, state logic, tasks to assist with functional safety and control loops," said TI.
The kit includes a C2000 'controlCARD'-compatible PCB with on-board JTAG emulation for software debug, a resolver interface with filtering, UART and SPI interfaces, four DAC outputs for debug and a 15V power supply.
Software includes C2000 controlSUITE and the firm's Code Composer Studio integrated development environment, which is Eclipse-based.
Data includes the bill of materials, schematics and PCB design files.
"It supports four software project variants running on three different C2000 controlCARDs, all purchased separately: TMDSCNCD28335 (floating-point), TMDSCNCD28035 (fixed-point) or parallel control law accelerator (CLA) and TMDSCNCD28027 (fixed-point).
Potential applications for the resolver-to-digital converter are in: industrial applications, including robotics, servo drives, and automation, as well as avionics and transportation.
There is a related detailed application note.