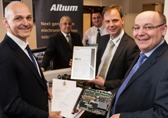 "It is essential for modern universities to provide graduates with relevant job skills and the best way of doing that is for the University to have access to professional tools," said Phil Mayo, managing director of Premier, who is a member of the University of Hertfordshire's industrial advisory group (pictured right).
The reseller will provide hardware and software from its supplier Altium.
Electronic engineering students from foundation level all the way through to final year have access to the software.
They will be able to install a full Altium Designer license on their own PCs making it free for them to use the software as and when needed for projects they are working on.
"This will give our electronic engineering students the practical and hands-on experience needed when they enter the world of employment. I can also see the software being used across other engineering disciplines, showing the influence of electronics on mechanical, automotive and aerospace engineering projects," said Head of School, Prof. Reza Sotudeh.
The initiative also provides the University with a new teaching/research lab which includes Altium software, a number of Altium NanoBoard NB-3000s and USB JTAG Adaptors.
This will further assist teaching and allow multi-themed, multi-discipline projects and a vastly increased array of technology available for research.