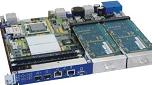 The first embedded development kits will come from Emerson Network Power, Eurotech and Kontron.
Further platforms from Advantech, Adlink, Curtiss-Wright Controls Embedded Computing, GE Intelligent Platforms and RadiSys will be available in Q4.
Each development kit includes a bootable USB flash drive each board will have loaded a pre-flashed 30-day run-time trial version of Wind River's VxWorks real-time operating system and/or Wind River Linux.
Last year, Intel bought Windriver as part of its drive into the embedded Linux market. Many of the boards used in this programme are Intel processor based.
The software from Wind River is optimized for developing, running, debugging and prototyping embedded software directly onto the chosen COTS processor board using Wind River Workbench.
Options including trial versions of Wind River Hypervisor and Wind River Tilcon Graphics Suite are also available depending on the specific Embedded Development Kit configuration.
The aim is to support embedded developments in "minutes rather than weeks", said Barry Mainz, chief operating officer at Wind River.
"We are confident our joint customers will greatly benefit by not only mitigating risks associated with software integration but by accelerating time to productivity," said Mainz.
The following Embedded Development Kits are immediately available from Wind River's board vendor partners: Emerson MATXM-CORE-411-WR for VxWorks, Wind River Linux, and Wind River Hypervisor; Eurotech boards Catalyst FX, Catalyst LP, Catalyst Module XL and ISIS and platforms Helios and ISIS ICE for Wind River Linux and Tilcon Graphics Suite; and Kontron nanoETXexpress-SP, uETXexpress-DC, uETXexpress-SP, VX3020 and VX3230 for VxWorks, Wind River Linux and Tilcon Graphics Suite.
To upgrade from the 30-day trial versions to licensed versions of Wind River's embedded software, customers simply follow instructions provided to them in the Embedded Development Kits.