The global market for industrial semiconductors had a strong year in 2013 and revenues were significantly up from the previous year, according to a new report from IHS Technology.
Global industrial electronics chip revenue $33.7bn in 2103 which was 11% up on 2012.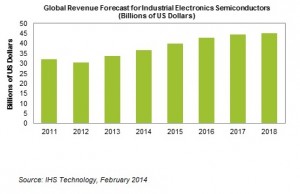 Growth is predicted to continue and industrial related semiconductor revenue will reach some $45bn by 2018.
"The market's persuasive bounce-back is due to a strengthening global economy, coupled with higher purchasing confidence across all geographical regions," said Robbie Galoso, principal analyst for industrial electronics at IHS.
Take the Electronics Weekly UK Salary Survey 2014 »
End markets under the industrial banner include automotive, home automation, medical, energy, aeronautics and military. Lighting was a strong market, especially LED lighting products, as were security systems used in applications like video surveillance and fire alarms.
In Europe, 13 of its countries figuring among the top 20 global industrial electronics markets. Those nations included the likes of Germany, France, Switzerland, Sweden, Italy and Finland.
An upturn in the housing market in the US was a factor. China also saw broad-based revenue increases occurring in various segments, including medical electronics and factory automation.
The industry on the whole continued to pick up steam during the third quarter after demand started improving in the second. Overall, the turnaround for the year sets the stage for a robust 2014, Galoso said, with annual revenue forecast to grow 9% to $36.8 billion.
These findings are contained in the report, "Solid Q3 Industrial Growth Improves 2013 Forecast," from the Industrial & Medical Technology research area of IHS.