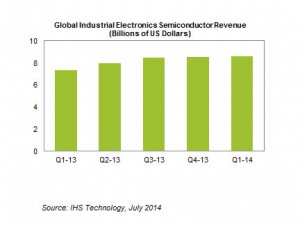 Compared to Q1 2013, it was up 17.5%.
The sector could record  $35.42 billion in revenue this year, up 9.4% from 2013's $32.39 billion.
This means 2014 could be the strongest period in several years for the market, following growth of 8.8%  in 2013 after a 5% loss in 2012.
"Industrial was second only to the mighty wireless space in racking up revenue for the total semiconductor market," says  IHS' Robbie Galoso.
Q1 drivers were  factory automation, commercial aircraft, light-emitting-diode (LED) lighting, climate control, renewable energy, medical electronics, application-specific testers and transportation.
The segments benefited from a rapidly stabilising housing market, improved consumer finances, increased capital spending and better credit conditions.
In contrast, the segments that did not do as well were homeland security, military aircraft, and general-purpose test and measurement. A tighter US defence budget was responsible for military- and security-related declines, while lengthening capital-approval cycles negatively impacted test and measurement.
TI reported broad-based growth for the quarter in such areas as motor drives in factory automation.
ADI  turned in higher-than-expected performance in all its major applications that included energy and military applications.
Maxim enjoyed strong medical electronics growth via analogue solutions in low-power and portable patient-monitor devices.
Microsemi rebounded with revenue derived from electronic-oriented aircraft such as the Boeing 787 and Airbus A350.
Among the firms that struggled during the period were Cree, Nichia and Philips Lumileds—all of which fell victim to normal seasonal pressures in the LED lighting area.
NXP and Xilinx reported sales declines across a number of customer accounts.