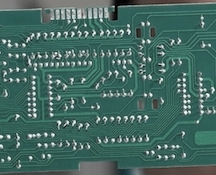 "Unfortunately whilst many other sectors of the UK economy (construction, services, automotive, aerospace) picked up in 2013 the industrial market is lagging," said Adam Fletcher, chairman of the supply chain body, ecsn/afdec.
"Extrapolating current data suggests that the industrial sector, which is vital for the UK electronic components market, stabilised in 2013 and will start to grow again towards the end of Q1 '14," said Fletcher, writing in the electronic components supply network (ecsn) discussion group on Linkedin.
The global market for industrial semiconductors returned to growth last year.
The rate of growth in the UK is more difficult to forecast. "I would suggest it is likely to be in the range 3% to 5% in 2014, however it is likely to be a long path back to post 2009 revenue levels," said Fletcher.
According to a new report from IHS Technology, global industrial electronics chip revenue $33.7bn in 2103 which was 11% up on 2012.
"IHS figures do coincide with the picture that Anglia is seeing," commented John Bowman from component distributor Anglia.
End markets under the industrial banner include automotive, home automation, medical, energy, aeronautics and military. Lighting was a strong market, especially LED lighting products, as were security systems used in applications like video surveillance and fire alarms.
In Europe, 13 of its countries figuring among the top 20 global industrial electronics markets. Those nations included the likes of Germany, France, Switzerland, Sweden, Italy and Finland.