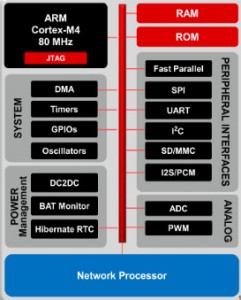 The chip has two ARM cores: One within a Wi-Fi network processor for running a 802.11b/g/n Wi-Fi stack (see below), which leaves the second, an 80MHz Cortex-M4, available for application processing.
To this, the kit adds temperature sensors, a 3-axis accelerometer, LEDs and push-buttons, and it comes with driver support and an software development kit (SDK) with 40 applications for Wi-Fi protocols, internet applications and MCU peripheral examples, together with user guides, design files and API guides.
For those wishing to put a Wi-Fi network processor on their own microcontroller, CC3100 BoosterPack is available.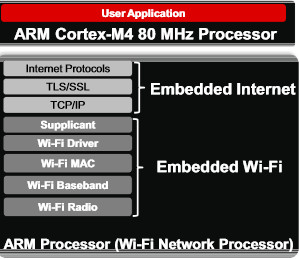 "It can run on two AA batteries for over a year which, for the first time, brings embedded Wi-Fi capabilities to battery-operated end-equipment," said Farnell, which is stocking both development kits.
An emulation accessory – CC31XXEMUBOOST – is a board for flashing updates to the CC3100BOOST.
CC3200 network processor
As well as aan ARM core, this includes an 802.11b/g/n radio, baseband, and MAC with a crypto engine256bit encryption.
CC3200 supports Station, Access Point, and Wi-Fi Direct modes, as well as WPA2 personal and enterprise security and WPS 2.0.
TCP/IP and TLS/SSL stacks, HTTP server, and multiple Internet protocols are embedded.
power management sub-system includes integrated dc-dc converters, and enables low-power modes such as 'hibernate with RTC' requiring less than 4μA.