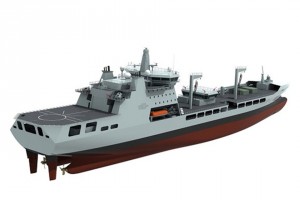 To be delivered to the MoD, each tanker requires eight UPS systems of various power ratings.
"After nine months of hard work by us and our Korean partner C&A Electric we are very pleased to have secured this important contract," said Gresham MD Jake Moir. "This order will be a major part of our forward order book for the next two years and provide us with a platform to develop new products. Our defence business continues to grow and we now have export customers in markets that include Spain, France, Australia, India and now Korea."
DSME is building four tankers to support Type 45 Destroyers at sea supplying, amongst other things: fuel, food, fresh water and ammunition.
Gresham also provides power products built into Type 45s, Type 23 Frigates, and the two Queen Elizabeth class aircraft carriers.
The 200m long 37,000 tonne Tide-class ships (means their names will begin with 'Tide'), formerly known by the MoD as 'Mars' tankers, will come into service from 2016, and will also be able to carry helicopters.
Tide class ships are double hulled – one inside the other rather than catamaran. Previous Royal Fleet Auxiliary tankers, also 'Tides' were single-hulled and liable to spill oil if punctured.