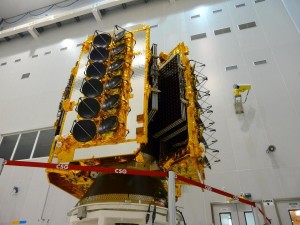 The Ka-band satellites are positioned at an altitude of 8,063 kilometers – four times closer to the earth than geostationary satellites, notes Thales Alenia Space – and they are intended to support "high speed, low cost, low-latency Internet and telecommunications services".
"O3b Networks will supply trunking and mobile backhaul connectivity to telecom operators and service providers at speeds comparable to those offered by fiber-optic networks," says Thales Alenia Space, the prime contractor.
A year ago the first four such satellites were launched, and a third batch will follow.
"Today is an important step towards further completion of the constellation with the launch of the 2nd batch that will be followed by third batch in early 2015," said Jean Loïc Galle, CEO of Thales Alenia Space.

"We are very proud to be part of this endeavour, with its unprecedented operational and beam flexibility, and its potential to connect billions of people who have, so far, had limited access to broadband".
The satellites were launched from French Guiana by Arianespace using a Soyouz rocket.
httpv://youtu.be/aZIpH7gQ1Rs
See also: