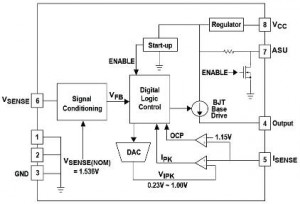 "The use of BJTs is prevalent in 5W and lower power supplies," said Dialog v-p Ron Edgerton. "We are bringing this to higher power applications."
Called iW1679 (Dialog bought iWatt recently) the chip is a pulse width modulation and pulse frequency modulation (PWM/PFM) controller intended for 5V/2A smartphone adapters and chargers.
Claimed average active efficiency is 83% and no-load stand-by is <30mW.
"This enables designers to meet or exceed emerging global energy standards, including the European CoC version 5, which is anticipated to require 76% active average efficiency and high light load efficiency down to 10% loads, as well as the proposed US DoE regulation, expected to require 79% active average efficiency, and the Energy Star EPS 2.0, which will require 73% active average efficiency," said the firm.
Base drive requirements for a BTT are more complex than needed at the gate of a mosfet.
Dialog has has proprietary base-drive techniques – which involve switching in and out parallel current sources – to modulate drive.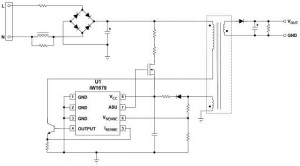 "This optimises performance and improves efficiency by keeping the BJT out of saturation," said the firm, adding: "Since BJTs have softer switching compared to FETs, they generate less noise and, therefore, have inherently lower EMI."
Valley-mode switching is another technique used to cut EMI. "It also includes a proprietary switching mode that results in no audible noise from the controller," said Dialog.
Four-level cable drop compensation is included, as is protection from output short-circuit, output over-voltage, output over-current, and over-temperature.
The package is an 8-lead SOIC.