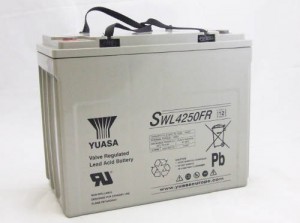 Called SWL4250, the battery is aimed at uninterruptible power supply (UPS) and similar high discharge rate applications.
"Typically the SWL family provides up to 40% extra high-rate discharge capacity when compared with standard NPL series batteries," said the firm.
Nominal 10hr rate capacity is 140Ah to 10.8V at 20°C, with 10min rate constant power of 4.25kW to 9.6V at 20°C.
Maximum discharge is 840A for 1s, or 420A for 1min, and impedance is 2.7mΩ measured at 1kHz.
Design stand-by life at 20°C is 10 years and "Eurobat classification is high performance, 10 to 12 years", said the firm.
The battery can be installed and operated in any orientation except permanently inverted and complies with IEC61056 and IEC60896-21/22.
Operation ranges is -15 to +50°C charging, and -20 to +60°C discharging. "Optimum storage temperature in fully charged condition is from -20 to +50°C," said the firm.
The 281mm high battery typically is 49kg with a 341×173 footprint.