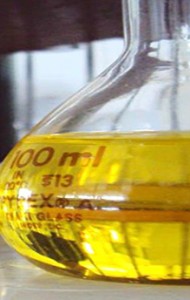 "We have to accept that petroleum reserves are finite," said Repsol technologist Ernesto Diestre. "Repsol is seeking a guarantee of a secure supply, with lower emissions and long-term sustainability."
For the past 10 years the Spanish multinational has been researching alternatives to mineral oil .
"We tested many different vegetable oils including rapeseed, soya and sunflower and found that those with a high oleic acid content not only matched the oxidation and stability of mineral oils but in some cases even outperformed them," said Diestre.
Unlike mineral-based dielectric oils, vegetable oils do not form sludge inside the transformer, reducing the risk of electrical arcs, said Repsol. Vegetable oils also help to preserve the cellulose insulation, the most fragile part of a transformer, increasing its service life.
Spills are less of a problem. "Vegetable oils would allow us to mitigate any negative environmental impact in that they degrade to carbon dioxide and water in less than 28 days and are not harmful to living organisms," said Diestre.
There is a downside to this bidegradeability: vegetable oils are only suitable for sealed distribution transformers, and not power transformers which are open to the atmosphere.
Flash point is 150°C for mineral oils and around 330°C for vegetable oil.
Diestre will present a paper 'non-inhibited oil based on natural esters' at the CWIEME coil winding show in Berlin on Tuesday 24th June.