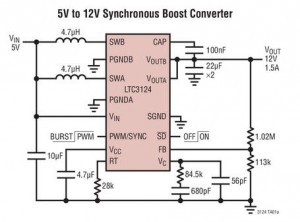 Common in high-current buck (step-down) converters, multi-phase operation is uncommon in step-up converters.
"Dual-phase operation significantly reduces peak inductor and capacitor ripple currents, minimising component size while delivering lower output ripple versus an equivalent single-phase device," said the firm.
In this case, the firm has integrated two 2.5A 18V switches, plus synchronous rectifiers, to allow outputs up to 5A and 15V.
Helped by low resistance mosfets (130mΩ n-channel, 200mΩ p-channel), efficiency peaks at 95%. Switching is from 100kHz up to 3MHz.
Called LTC3124, this is a comprehensive component.
As befits is role in battery operated equipment, it can start from as low as 1.8V, and run from 0.5-5.5V – so Li-ion, Li-polymer and 2-4 cell NiMH batteries are accommodated. 1.5A 12V can be delivered from a 5V input.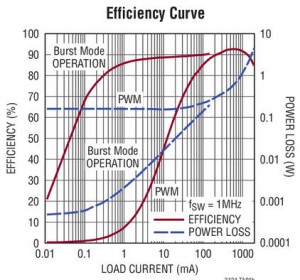 For low loads, burst-mode operation lowers quiescent current, to 25µA minimum, although continuous-mode can be fixed through an external pin for minimum noise operation.
Compatibility in with unusual load-battery combinations when the input voltage exceeds the required load voltage is provided because the device continues to switch and regulate, although at lower efficiency and current capability.
One last battery-friendly feature is output-disconnect, to prevent forward conduction through the output p-mosfets during shut-down, allowing the output to drop to zero volts without battery drain.
A real bells-and-whistles addition is internal anti-ringing resistors, that are automatically switched in to damp low-energy parasitic ringing which develops under certain circumstances and can cause RFI.
More standard features include: start-up in-rush limiting, external synchronisation, output over-voltage protection, and short-circuit protection.
Package options are 16pin 3x5mm DFN and thermally-enhanced TSSOP.
Temperature range options are -40 to 125°C, or -40 to 150°C.
Where is such a component going to be used?
Linear Tech marketing engineer Jeff Gruetter has an example: "Many RF Transceiver amplifiers require a well regulated 12V output voltage with a load in excess of 1A, regardless if the power source is a Li-Ion battery, multiple alkaline cells or a fixed 5V rail. Similarly, high efficiency is of paramount importance as it minimises thermal design considerations while maximising battery run time."
LTC3124 at a glance:
Dual-phase boost converter
Buck operation possible
1.8-5.5Vin (500mV after start)
2.5-15Vout
1.5Aout (5-12Vin)
Output disconnect
Synchronous rectification
Up to 95% efficiency
In-rush limit
100kHz-3MHz operation
External clock possible
Burst-mode possible
Output over-voltage protection
Soft-start
<1μA shutdown
3x5mm DFN and TSSOP