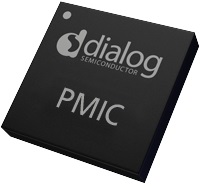 To power USB phone accessories – LTE data dongles or memory sticks – the converter can operate in reverse to supply 5V at up to 1A to USB OTG ports.
Called DA9150, the built-in Cortex M0 is claimed to support 99% accurate state-of-charge measurement.
"The concept of combining a fuel gauge with charging functions exploits many synergies of battery-related functions within a smartphone design. DA9150 supports our on-going strategy of smartphone initiatives to address the China smartphone LTE market," said Dialog general manager Udo Kratz.
It supports completely autonomous charging from a 5V input, and includes adaptive adjustment of the converter operating point to for different supplies, incuding 5V USB Battery Charging v1.2 types.
The constant current – constant voltage charger is based around a 2A 3MHz dc-dc converter (1µH inductors), and is claimed to be over 90% efficient.
JEITA-compliant temperature-dependent charge profiles are included, as is thermal supervision of the charger, short circuit protection, battery safety timers, and over-voltage up to 24V.
Within the chip, said Dialog, is a regulation scheme with the benefits of power-path management, but without using a switch between the system supply and the battery – further details are yet to be available.
System parameters such as charging current, USB bus voltage, application power consumption and temperatures, are available to a host processor through I2C.
The 4x4mm QFN operates over -40 to 85°C.