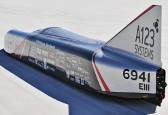 Called Buckeye Bullet 3, it joins a line of record-breaking cars from the University's (OSU's) Center for Automotive Research (CAR).
"The third generation electric land speed record vehicle to be designed and built by OSU students, the Buckeye Bullet 3, will be an entirely new car designed and built from the ground up," said Professor Giorgio Rizzoni, director of CAR. "Driven by two custom-made electric motors designed and developed by Venturi, and powered by prismatic A123 batteries, the goal of the new vehicle will be to surpass all previous electric vehicle records."
The batteries use A123's lithium iron phosphate (LiFePO4) Li-ion cells, which have a lower energy density than cobalt-type Li-ion cells, but can be charged faster and are safer under heavy load and abuse.
A123 supplied the cells despite recent financial troubles, which were stabilised when it was bought recently by Wanxiang America
Venturi is a French sports car maker which, having started with petrol cars, has branched out into high-performance electric vehicles.
In 2004 , the Ohio team set the US electric land speed record at Bonneville salt flats (314mph) with the original Buckeye Bullet, a nickel-metal hydride battery-powered vehicle.
Several years later, the team returned to the with Buckeye Bullet 2 (BB2), a completely new vehicle powered by a half megawatt hydrogen fuel cell from Ballard Power Systems of Canada, and set the international land speed record for that class at just over 300mph.
Mechanical power came from a custom-designed three-phase induction motor fed by an inverter rated at over 700 horse power.
As a test bed for the A123 cells intended for BB3, BB2's fuel cell was replaced by a battery and the vehicle was re-named Buckeye Bullet 2.5 (see photo).
Despite being a battery test bed, Buckeye Bullet 2.5 broke the world electric speed record for Class VIII/3 electric cars at Bonneville Speed Week 2010, pushing it to 308mph. 
Aerodynamic development for BB3 has been done in wind tunnels and using computational fluid dynamics at the Ohio Supercomputer Center on its IBM 1350 Opteron Cluster.