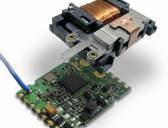 Our predictions for the further development of energy harvesting wireless technology in 2012 were very positive and our projections were pitched high – but this year's reality has even exceeded our expectations, writes Laurent Giai-Miniet, CEO of EnOcean. 
The standardisation has opened up new market segments for energy harvesting wireless, especially in the fields of smart home and machine-to-machine (M2M) communication.
All these kind of applications interconnect an increasingly large number of individual wireless nodes or sensors that can communicate with long-range wireless networks. Here, the ability to network high node count systems from multiple vendors, using an open standard, while ensuring interoperable communication, is a unique advantage of EnOcean-based solutions.
Homeowners can now integrate and network building services as well as multimedia devices and home appliances into the building automation system, while controlling them from mobile devices as well. This building automation principle can also be transferred to other automation processes such as industrial control. Since our energy-autonomous modules eliminate the need to pull wiring, and are batteryless and maintenance-free, energy harvesting wireless is rapidly becoming the established standard for the last leg communication level in connected applications.
In 2012 we've also extended our international business to the Asian market. In Asia, specifically, there is a fast growing need for energy-efficient buildings as energy resources are limited. China, Japan and other Asian markets are important focus areas of our global strategy and we're very excited about the traction that our technology is getting in these markets.
In addition, with Japanese semiconductor manufacturer, Rohm, we benefit from a strongly experienced and very well established partner to promote and drive success of energy harvesting wireless technology in Japan and throughout the Asian region.
Together with our new worldwide distribution partners, Future Electronics and Farnell, we can meet the requirements of our customers faster and better align with their individual needs. This is accompanied by the further technical development of our solutions to cover regional specifics.
The growing international interest in energy harvesting wireless technology is also mirrored in the development of the EnOcean Alliance; with more than 300 members and 1000 interoperable products, the EnOcean Alliance is one of the fastest growing technical alliances.
The developments during 2012 give us the perfect pre-conditions to enter 2013 to further expand our worldwide business and establish our energy harvesting wireless technology as a communication standard around the world.
www.enocean.com