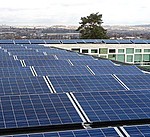 As CO2 levels account for one third of the weighting in French tenders. Overall, solar projects with a cumulative capacity of 40.3 megawatts (MW) were awarded contracts.
A number of the projects used modules from Innotech Solar (ITS).
"We know that projects featuring our modules with a cumulative capacity of 7.3 MW received approval from the French environment ministry – this amounts to almost 20 percent of the entire output capacity in this tendering round," said Emanuele Paese, head of sales and marketing Europe at Innotech Solar.
The Scandinavian-German manufacturer Innotech Solar calims its photovoltaic modules have a carbon footprint that is currently around 50% smaller than that of conventional modules.
"While over 870 kg of CO2 are emitted per kWp of plant capacity when manufacturing conventional crystalline modules, CO2 emissions total just 388 kg per kWp for the 250 Watt EcoPlus module from Innotech Solar," said the company.
The company uses renewable energy at its manufacturing sites in Sweden and Germany.
The company has had its modules tested by the Fraunhofer Institute, Photovoltaik-Institut Berlin and PV Lab.
A summary of the carbon footprint study conducted on ITS modules.