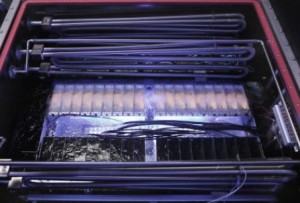 The 'proof-of-concept' distributed memory supercomputer, the SGI ICE X has its hardware boards immersed in a dielectric fluid called 3M Novec.
According to 3M, the two-phase immersion cooling technology can reduce cooling energy costs by 95% and reduces water consumption by eliminating municipal water usage for evaporative cooling.
Heat can also be harvested from the system and reused for heating and other process technologies such as desalination of sea water.
"Built entirely on industry-standard hardware and software components, the SGI ICE X solution enables significant decreases in energy requirements for customers," said Jorge Titinger, president and CEO of SGI.
The Intel Xeon processor E5-2600 hardware can scale from tens of teraflops to tens of petaflops. The cooling technique takes up less space than conventional air cooling and so has benefits for large-scale data centres.
"We are thrilled with the work that our collaboration with SGI and Intel has produced," said Joe Koch, business director for 3M Electronics Markets Materials Division. "These advancements are a significant stepping stone in accelerating industry wide collaboration to optimize computer hardware design."
The companies are working with the Naval Research Laboratory, Lawrence Berkeley National Labs and APC by Schneider Electric to deploy and evaluate an identical system with the intention to demonstrate the viability of the technology at any scale.