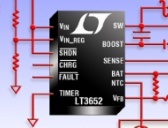 Solar panels are notoriously non-linear, and maximum power extraction under all conditions requires a fairly complex technique called peak power tracking (PPT) in the panel power converter.
Avoiding the complexity of PPT, Linear instead varies the effective load current on the solar panel to keep its terminal voltage constant.
"The LT3652's simple input voltage regulation loop circuitry delivers virtually the same charging efficiency as more complex and expensive PPT techniques," said Steve Pietkiewicz, v-p of power products.
Input voltage regulation works for a sub-set of solar panels.
"Bypass diodes inside a panel can create complex power/current characteristics that are not easily optimised when partial shading exists on the panel, however, virtually all of the 12V system solar panels currently on the market that are specified with maximum output power less than 25W are constructed from a simple series cell arrangement with no bypass diodes," said the firm. "This type of arrangement yields peak output power within a narrow band of panel output voltages, regardless of lighting conditions. Peak powers in excess of 95% may be produced from panel voltages of 12.5-18.5V, depending on the characteristics of the panel."
A resistive potential divider to a chip sensing pin sets the input voltage for any particular design.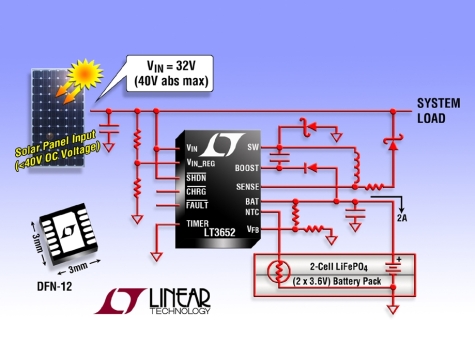 "An input voltage regulation loop also allows optimised charging from poorly regulated sources where the input can collapse under over-current conditions," added Linear Tech.
Operating voltage is 4.95 to 32V, with a 40V absolute maximum.
The LT3652 needs no external microcontroller and can charge a variety of series-connected cell configurations, including one to three Li-ion or Li-polymer cells, one to four LiFePO4 cells, and sealed lead-acid batteries up to 14.4V.
Charge current is programmable up to 2A and there are charge termination options including C/10 and an on-board timer.
Float voltage feedback accuracy is +/-0.5%, charge current accuracy is +/-5% and C/10 detection accuracy is +/-2.5%.
"Once charging is terminated, the LT3652 automatically enters a stand-by mode, which reduces the input supply current to 85uA," said Linear. "In shutdown, the input bias current is reduced to 15uA."
Auto-recharge starts a new charging cycle if the battery voltage falls 2.5% below the programmed float voltage.
Other features include: 1MHz switching frequency, a thermistor interface, and a bad battery detector with auto-reset.
The device is packaged in a 0.75mm tall 12pin 3x3mm DFN, and is offered in both E and I grade versions, guaranteed from -40 to 125C.
Sign-up for the ElectronicsWeekly.com newsletters

Daily Latest
(Daily)
Weekly
Roundup
(Weekly)
Mannerisms
(Weekly)
Made By
Monkeys
(Fortnightly)