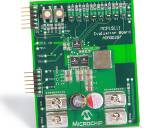 Called MCP19111, both microprocessor and analogue blocks are on the same silicon, and within the analogue block is a complete peak-current-mode buck controller, needing only energy-storage components and power mosfets to complete a PSU.
The microcontroller can set all out-of-loop parameters including reference voltage, dead-time, and loop compensation time constants – the latter via digital-to-capacitance and digital-to-resistance converters.
It is based around an 8bit PIC12F core "modified with peripheral to suit the application", said Microchip marketing manager Steve Stella. "It doesn't need to be high-performance because it doesn't need to do anything cycle-by-cycle. The hard stuff is done on the analogue side."
Why would an analogue power supply need digital oversight?
"All-analogue works very well if you have a single operating point, but it is prohibitively expensive to get the flexibility for more than one operating point," he explained.
Microchip has release a graphical interface tool that will produce code for the microcontroller's 4kwords of flash, which can be modified or replaced by expert customers with their own power supply intellectual property.
"Our customers have been doing what they have been doing longer than we have been enabling it," said Stella.
Up to 15 general purpose I/O lines are included from the MCU for applications including sequencing external power converters.
Input range is 4.5 to 32V, with an on-die LDO providing 5Vmax for the processor.
Integrated mosfet drivers are built-in to deliver 2A to a high-side mosfet and 4A to a low-side mosfet. An external capacitor is required for the driver bootstrap voltage.
To go with the chip, Microchip has released four power mosfets, entirely designed in-house on the firms own mosfet process. Rated at 25V MCP87018, MCP87030, MCP87090 and MCP87130 are logic-level devices with 1.8, 3, 9 and 13m? on-resistance respectively. The 018 is expected to be available in February, the rest are available now.
Provision is made for over-temperature alarms, under-voltage lock-out and over-voltage lock-out. There is also a PMBus and I2C compatible serial interface.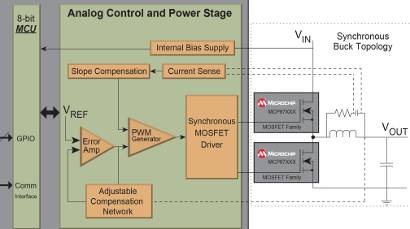 The chip comes in a 5x5mm 28pin QFN package.
An 40A output evaluation board is available which comes with the graphical firmware configuration tool – which plugs into the firm's MPLAB X integrated development environment.
"The combined evaluation board, GUI and firmware allow power-supply designers to configure and evaluate the performance of the MCP19111 for their target applications," said Microchip.
There is a MCP19111 video (scroll down).