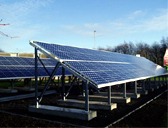 In tests, a screen representing typical rooftop obstructions shaded a portion of a conventionally wired solar panel system.
Although 8 to 16% of the array was shaded over the course of a day, it resulted in average power losses of between 35 and 40%.
An identical solar array fitted with power optimiser technology developed by National produced on average between 30% and 37% more electricity in the same conditions.
"This effectively recouped up to 57% of the lost power," said National.
"This new technology tackles several problems that have long faced rooftop photovoltaic systems, such as shading and panel mismatch, and provides a viable solution to commercial customers," said Ralf Muenster, director of National Semiconductor's renewable energy segment.
The technology, called SolarMagic, uses a combionatin of semiconductor hardware and software to manage the power conversion process from each panel in a solar array.
In practice, if one panel in a solar installation is shaded it is allowed to produce what little energy it can while the other panels continue to operate at their full potential.
"SolarMagic power optimisers have the potential to transform the solar market," said Muenster.
For the testing, the test array and the reference array were each comprised of two strings with 12 PV panels per string.
Both strings were attached to a Xantrex GT5.0-NA-240/208 inverter. The performance data was collected using Xantrex's software, and had a measuring accuracy of +/- 5%.