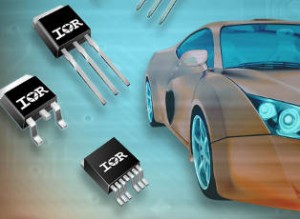 The family of 22 AEC-Q101 qualified 40V n-channel transistors comes in D2Pak-7P, D2Pak, DPak, TO-262, IPAK and TO-220 packages.
The benchmark D2Pak-7P AUIRFS8409-7p has on-resistance as low as 0.75mΩ at a gate voltage of 10V where it can handle up to 240A.
"The new devices are AEC-Q101 qualified, which requires that there is no more than a 20% change in Rds(on) after 1,000 temperature cycles of testing," said the firm.
| | | | | | |
| --- | --- | --- | --- | --- | --- |
| Part Number | Package | V(BR)DSS (V) | RDS(ON) MAX. @ 10VGS (mOhm) | ID MAX @ TC = 25°C (A) | QG TYP. @ 10VGS (nC) |
| AUIRFS8409-7P | D2Pak-7P | 40 | 0.75 | 240 | 305 |
| AUIRFS8408-7P | D2Pak-7P | 40 | 1 | 240 | 210 |
| AUIRFS8407-7P | D2Pak-7P | 40 | 1.3 | 240 | 150 |
| AUIRFS8409 | D2Pak | 40 | 1.2 | 195 | 300 |
| AUIRFS8408 | D2Pak | 40 | 1.6 | 195 | 216 |
| AUIRFS8407 | D2Pak | 40 | 1.8 | 195 | 150 |
| AUIRFS8405 | D2Pak | 40 | 2.3 | 120 | 107 |
| AUIRFS8403 | D2Pak | 40 | 3.3 | 120 | 62 |
| AUIRFSL8409 | TO-262 | 40 | 1.2 | 195 | 300 |
| AUIRFSL8408 | TO-262 | 40 | 1.6 | 195 | 216 |
| AUIRFSL8407 | TO-262 | 40 | 1.8 | 195 | 150 |
| AUIRFSL8405 | TO-262 | 40 | 2.3 | 120 | 107 |
| AUIRFSL8403 | TO-262 | 40 | 3.3 | 120 | 62 |
| AUIRFR8405 | DPak | 40 | 1.98 | 100 | 103 |
| AUIRFR8403 | DPak | 40 | 3.1 | 100 | 66 |
| AUIRFR8401 | DPak | 40 | 4.25 | 100 | 42 |
| AUIRFU8405 | IPak | 40 | 1.98 | 100 | 103 |
| AUIRFU8403 | IPak | 40 | 3.1 | 100 | 66 |
| AUIRFU8401 | IPak | 40 | 4.25 | 100 | 42 |
| AUIRFB8409 | TO-220 | 40 | 1.3 | 195 | 300 |
| AUIRFB8407 | TO-220 | 40 | 2.0 | 195 | 150 |
| AUIRFB8405 | TO-220 | 40 | 2.5 | 120 | 107 |