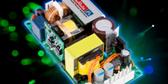 The PCIM power electronics and intelligent motion exhibition opens in Nuremberg, Germany next week – May 8-10. Electronics Weekly has taken a look at some stand-out devices that will be on show there.

Silicon carbide remains interesting territory in power semiconductors, particularly as mosfets and IGBTs – the default 'right answer' for silicon power control – are not looking as good in SiC compared with large SiC JFETs.
SiC has a bandgap approximately three times greater that Si, a dielectric breakdown field 10 times higher, and a thermal coefficient three times larger.
Having released big high-voltage SiC JFETs last year, transistor maker SemiSouth is announcing a product that pushes SiC down the voltage range into silicon's home territory.
SJDA065R055 is a 650V 55m? (max 25°C, 65m?typ at 100°C) device, claimed to be the first JFET at this voltage, although the firm acknowledges that Rohm has R&D samples of a 650V SiC mosfet.
Back up at more traditional SiC voltages is SDB10S120, a 1.2kV 10A Schottky diode in a Dpak. Being a Schottky, it has zero reverse recovery current and zero forward recovery voltage. Last year only 5A was available in Dpak, with 10A devices in larger TO-220s. Forward drop is 1.6V at 25°C and 2.4V at 175°C.
More information will also be available at PCIM on the SJDC170R040, sampling in die-form now, a 1.7kV JFET with resistance down at 40m?, claimed to be a world record. A packaged version is slated for Q3.
A year or so ago, ac-dc chip company Power Integrations bought a chunk of SemiSouth.
Power Integrations used to stick to low-power chips for phone chargers and other small PSUs.
Now it has also acquired Swiss IGBT driver chip firm CT Concept and Qspeed – which makes 600V multi-amp soft recovery diodes.
The firm is obviously going to climb the power output curve, and exactly what is going on should become clearer after PCIM.
Rohm will have its dual-element 122x46x17mm SiC mosfet/Schottky diode pairs that support operation above 100kHz and, according to the supplier, can reduce loss during power conversion by 85% compared with conventional silicon IGBT modules, and can replace 200-400A Si IGBTs.
"The increase in resistance during high-temperature operation is much lower than that of silicon transistors, offering a significant advantage in the form of low conduction loss during high-output operation," said Masanori Tanimura, product marketing at Rohm. "Replacing a conventional 400A-class IGBT can cut volume by 50% and the lower heat generated requires less cooling countermeasures, contributing to miniaturisation."
SiC production problems of unstable reliability at high temperature have been addressed by using product screening methods, said the company, and a control system was implemented that prevents characteristics deterioration at high temperatures.
According to Tanimura, the company has also solved the problems associated with mass production of SiC Schottky diodes, such as uniformity of the contact barrier, and formation of a high-resistance guard ring layer that does not require high temperature processing.
Silicon carbide is not the only unusual semiconductor to get into power.
At PCIM, Peregrine Semiconductor, known for RF chips, will show silicon CMOS-on-sapphire used for high-frequency power conversion, initially with rad-hard point-of-load bucks for space use. 
"We believe they are industry's smallest space-grade monolithic non-isolated distributed power solutions," said the firm.
Applications are expected feeding FPGAs, DSPs, asics and SRAM with 1.0-3.6V from 4.6-6V. Max output current is 2, 6 or 10A, efficiency is up to 93%, and switching frequency is 100kHz-5MHz, with internal oscillator options of 500kHz or 1MHz.
Back with conventional technology, further developments in topology and power devices continue to allow more power to be squeezed into a given volume.
Murata will be showing a 102x51x34mm 1U open frame 120W AC/DC PSU that can deliver 75W convection-cooled.
Called the MVAB120 series, efficiency is typically up to 91%, including power factor correction to EU standards.
The series comprises 12, 24 or 48V single output models.
Input range is 90-264Vac and 120-300Vdc, sustaining full load from -10 to 50°C, and starting from -20°C.