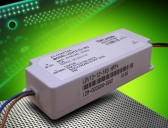 High efficiency is particularly important because maximum luminair dissipation is restricted by law in many parts of the world.
Inside and out
TDK-Lambda has developed a range of supplies with an output efficiency of 82% for both indoor and outdoor lighting.
The 12W LDC12 series (LDV12 is a voltage output variant) is IP66-rated and accepts universal AC inputs.
Constant current is either 350mA, the de-facto standard set by Lumileds' original 1W Luxeon Star, or 700mA.
These PSUs are convection cooled, operating between -10e_SDgrC and +60e_SDgrC without derating, and guaranteed to start at -20e_SDgrC.
Standard features include short-circuit, overload and over-voltage protection. Over-voltage protection is particularly important in constant-current supplies to avoid self-destruction should the LED string become open circuit.
The units measure 90×34.5x21mm and are mounted in a vibration and shock resilient case.
All models have a mean time between failures of over 700,000 hours and a calculated capacitor life of up to 10 years. Warranty is three years.
Low-cost installations
On the open-frame side, Taiwanese PSU maker Mean Well has developed a range of LED PSUs for low-cost and built-in installations.
The 45W PLP-45 series models measure 102x51x31mm and have 90-264Vac inputs and simplified single stage active power factor correction (PFC).
"They can comply with EN61000-3-2 Class C (harmonic current) and PF>0.9 when output loading is higher than 75% to fulfil the general requirement of lighting fixtures," says Mean Well.
Efficiency is up to 89% and free air convection is sufficient for full load operation between -30e_SDgrC and +70e_SDgrC.
Output current can be adjusted from 75% to 100% with a pot, and standard functions include short-circuit, overload and over-voltage protection.
Mean Well also makes sealed supplies, and is currently working on an IP67 (IP65 with internal potentiometer) convection-cooled series for streetlights.
Dubbed HLG, these have universal inputs, power factor correction and offer up to 94% efficiency.
It has already released the 240W HLG240H.