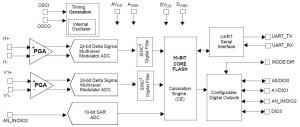 Microchip has announced a power-monitoring chip that measures to 0.1% across a 4,000:1 dynamic range.
Intended for single-phase power measurement, it includes two 24bit delta-sigma ADCs, a 16bit calculation engine, EEPROM, a voltage reference, and a two-wire interface.
Called MCP39F501, SINAD performance is 94.5dB on each channel.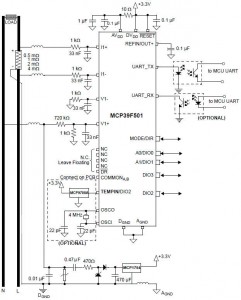 "The power-monitoring IC allows designers to add power monitoring to their applications with minimal firmware development. Built-in calculations include active, reactive and apparent power, RMS current and RMS voltage, line frequency, power factor as well as programmable event notifications," said Microchip.
Only passive components are required in the mains-to-chip interface (see circuit diagram).
Smart power meters are the obvious application, but Microchip is also aiming at products which report their own power consumption, for example: servers, networking PSUs, lighting, heating, industrial equipment, consumer appliances, and smart plugs that add power monitoring to dumb appliances.
Operating temperature is -40 to +125°C, extended at the high end to allow operation in industrial machinery, and it comes in a x5mm QFN.
The chip is available now, and a demo board (ARD00455) will be available in mid-February.