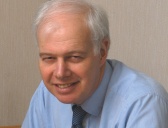 Andy Gales, v-p of international sales at Vicor talks to Electronics Weekly about high density DC-DC converter design, Smart Power, power density and the impact of digital control.
1. What is the most important trend affecting the DC-DC converter module market?
The single most important trend is ongoing increases in power density. This manifests itself in terms of reduced board area requirements on the printed circuit board or reduced spacing between the printed circuit boards or both.
However, an increase in power density, without improvements in efficiency, creates thermal management problems.
For example, halving the board area of a converter doubles the thermal impedance to the system air flow, creating a higher case temperature for a given power level. This could make it impossible to extract the rated power out of the converter.
So power density/efficiency is really the most important trend. An extra benefit of increased efficiency is lower overall system power usage, a significant issue these days.
2. What is the most important technology driver in DC/DC module design?
Improvements in switching FET design including reduced switch losses, for example Rds(on), for a given die size and reduced parasitic losses allow higher frequency switching (and reduced size of magnetics etc) for a given efficiency.
The A – Z of Q5 interviews

A
ARM chairman, Robin Saxby
B
BSI manager, Simon Bircham
C
CamSemi CEO, David Baillie
D
Design LED, James Gourlay
E
Ensilica, Kevin Edwards
F
Future MD, Danny Miller
G
GSPK Design CEO, P. Marsh
I
Icera CEO, Stan Boland
J
Jennic CEO, Jim Lindop
L
Lumileds, Steve Landau
M
Mentor CEO, Walden Rhines
N
NI president, J. Truchard
O
OLED-T CTO, P.K. Nathan
P
ProVision CEO, David Sykes
Q
QinetiQ, Stephen Lake
R
Rambus CEO, Harold Hughes
S
SETsquared, Simon Bond
T
TI CEO, Rich Templeton
U
University of Southampton
W
Wolfson CEO, Dave Shrigley
X
XMOS CEO, James Foster
Z
Zetex CEO, Hans Rohrer

The alpha and omega of electronics industry interviews
However, conventional switching topologies such as PWM (Pulse-width Modulation) have inherent limitations on switching frequency and don't take full advantage of the capability of the new FETs.
Advanced topologies such as Sine Amplitude Converter reduce switching losses associated with higher frequencies by switching at zero voltage and current, allowing a leap in switching frequency to the 3.5MHz level. At these frequencies, magnetics can be very small, allowing for power densities in the 1kW/cubic inch range.
3. What are the limits on power density? How close are we to the theoretical limit?
Advances in device technology and packaging together with improvements in switching topologies have allowed us to improve power density in converters by a factor of over 20 over the last 25 years or roughly a doubling in density every six years.
We see this trend continuing for the foreseeable future as improved devices from the semiconductor manufacturers appear and new switching topologies emerge from the power converter manufacturers.
4. How has digital control changed power design?
It depends on where the digital control occurs. At the module or brick level, digital control within the unit can allow for rapid customization of a standard part to a specific requirement.
Digital control from module to module can allow for very precise current sharing and synchronisation. Important monitoring signals (e.g. temperature) can also be available which simplifies designing more robust systems that can go down gracefully. These capabilities help engineers improve time to market for new designs.
External digital control of modular converters can more simply enable the design of complex sequencing in a multiple voltage rail system.
In a complete power solution, control and monitoring through a standard protocol such as PMBus again helps to simplify the integration of the power solution with its host system.
5. What is meant by the buzz phrase "Smart Power"?
Smart Power is a term describing the integration of "brains and brawn", control electronics with high power switching devices to solve common requirements in electronics more efficiently and effectively than before.
Other functions such as "Green Mode" operation are a form of Smart Power. It is the ability of the power component or system to adjust and optimise itself under varying conditions.
See also: Q5 – Interviews with electronics industry leaders
Read all the Electronics Weekly Q5 interviews. From ARM's chairman, Sir Robin Saxby, to touchscreen technology firm Zytronic's MD, Mark Cambridge, the business leaders share their particular insights on the UK electronics industry.