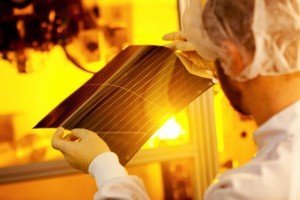 "Heliatek as demonstrated continuous progress from 3% to more than 13% efficiency over the last 10 years. It supports its roadmap towards 15% efficient organic solar cells," said the firm. Thanks to the low light and high temperature behaviour of the organic semiconductor, the electricity generation corresponds to the output of conventional solar cells with 16 to 17% efficiency when both are under real world conditions."
Its basic technology is vacuum deposition of small molecules on plastic films. The record cell has three different absorbers, loosely converting green, red and near-infra-red across 450 to 950nm. The absorber molecules are developed and patented by Heliatek.
Results were measured at simulated AM 1.5 illumination, and verified by German lab Fraunhofer CSP (Center for Silizium-Photovoltaik) "under standard testing conditions", said Heliatek.
The firm spun out from the Technical University of Dresden and the University of Ulm in 2006. Investors include BASF, various venture funds, the Free State of Saxony, the Federal Republic of Germany and the EU.