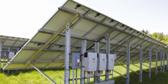 Over the last few years the photovoltaic (PV) market has grown enormously, driven by government feed-in tariffs (FiTs) in response to the need for economies to act smarter in terms of their energy mix.
The debate and impact over now-falling FiTs is well documented, but one clear result of these has been that Germany and Italy became the world's largest PV markets, 13 gigawatts of which was installed in the last year alone.
The US, China and Japan are now providing the new growth stimulus in 2013 as European markets mature.
Whilst there is much interest in upstream silicon and midstream module production, the inverter market is increasingly the key component in any PV system. The inverter is often the single most expensive item and is becoming more complex as manufacturers respond to changing market demands and seek differentiators in order to be competitive.
PV power is now a firmly embedded part of the generation and distribution network and as such systems must play their part in providing stable voltages to ensure grid stability.
Equally inverters, as the interface between generation and transmission, can provide a back-stop for tariff metering.
Together with measuring the delivered system return on investment, the inverters can also serve to optimise it and enable active management by the operator. Inverter design, with regard to market dynamics at least, is therefore centred around three key aspects: reactive power, maximum power point tracking (MPPT) and communications.
Reactive power
Reactive power is used by the distribution network operators to stabilise the grid against overvoltage and is normally controlled in a PV inverter by either capacitors or insulated-gate bipolar transistors (IGBTs).
An example of this is VDE-AR-N 4105 which stipulates the reactive requirements for PV inverters operating on the German low voltage distribution network. The amount of reactive power required is dependent on the power factor of the installed inverter, but the implication of the need for this is that the inverter must be oversized.
Research last year by the University of Stuttgart demonstrated that the accommodation of reactive power would typically require inverter oversizing by 11%. It also therefore impacts the voltage of the capacitors or IGBTs to increase, with 600V no longer sufficient.
An example of this is the International Rectifier IRG7PH range of IGBTs which are capable of delivering 1,200V in a TO-247AC package.
Maximum power point tracking
MPPT is deployed to enable arrays to extract as much wattage as possible in situations where shading is an issue or where module orientation is non-optimal. In certain circumstances it can be that MPPT-equipped inverters can mitigate the need for a separate solar tracker system on a module.
MPPT requires a device to manipulate output voltage or current to optimise the I-V curve for the solar module. Several dedicated ICs are now being marketed, including the MPT612 from NXP which uses a low-power 32-bit ARM7 processor to control the DC source via voltage and current sensors.
Engineers are also able to explore the potential for MPPT via development kits such as the C2000 TMDSHVMPPT from Texas Instruments with a two switch interleaved boost stage for MPPT.
Communications
So the inverter is now able to exert greater control over the power of the system, but how can the inverter itself be used in a more supervisory capacity?
Integrating the inverter with a supervisory control and data acquisition (SCADA) system, either via RS485 or wireless, enables the inverter to monitor the energy yield exported to the network from the array, providing more certainty of the return on investment than by simply relying on the grid-side tariff meter.
It can also allow the remote operator to view the cell outputs on a module, maximising system uptime and capacity by providing early indications of issues caused by arcing, cell degradation or other failures.
Interest in micro inverters
The future direction for inverter design is dependent of course on that taken by the PV market. Large-scale deployment of multi-MW arrays will continue in the growth markets such as China and the US but will lessen in Europe in favour of residential and building-integrated photovoltaic systems.
And off-grid systems will provide much needed energy across parts of Africa and Asia.
Micro inverters will grow in popularity in European markets whilst the downward price pressures impacting on the PV value chain will demand ever more efficient inverter designs.
Setting aside component selection, efficiency is likely to be achieved through the development of models specific to individual strategic markets, for example to optimise performance in Germany or China.
With feed-in tariffs unlikely to rise, efficiency will need to go hand in hand with greater demand for reliability since any downtime will become more critical to the profitability of an array.
Finally, the development of energy harvesting and storage technologies will be more widely embraced by inverter manufacturers as they seek to build self-contained inverter and storage systems.
The inverter market is changing and raising new technical challenges to be overcome, but we have seen that the development and integration of new technologies is one of the hallmarks of photovoltaics – it has brought us to where we stand today and by continuing to respond to the new challenges the global inverter industry will continue to be strong.
James Turner is global segment manager for Alternative Energy at Farnell element14