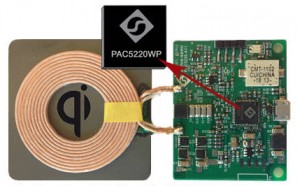 There are two versions: 'high-performance' and low-cost'.
Powered from 5V, efficiency is said to be up to 75% and stand-by can be as low as 50mW, but these do not take into account the efficiency and stand-by power of mains-to-5V conversion. The firm also has an ac-powered evaluation kit.
At the heart of the design is a chip, the PAC5220WP, which integrates an ARM Cortex M0 core, power manager for ac-dc or dc-dc conversion, configurable analogue front-end, data converters, gate-drivers, on-chip temperature sensor, GPIO, and serial ports.
EMI performance to FCC Class B is claimed as is meeting CISPR with up to 10dB margin.
As well as efficiency, alignment for effective coupling remains an issue with wireless charging - which is inductive, with half the transformer in the charger base and half in the phone. Firmware with the kit includes guided positioning with optional LEDs and buzzer, plus foreign objection detection.
In other applications, the same chip can be fed from 5-54V and its external mosfet gate drivers can handle up to 60V for higher power output.
"Active-Semi's PAC5220WP wireless power platform enables scalability beyond 5Vdc input and 5W charging systems to wide-input DC, universal AC inputs, and up to 150W of power delivery," said the firm. "This enables charging for tablets, ultrabooks, and applications requiring more power. The on-board programmable MCU and the configurable analogue peripherals support multi-mode migration to other standards like PMA."