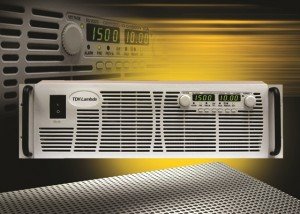 These higher voltage supplies have the same features and dimensions (3U high and 483mm wide) as the existing 7.5V to 600V 10kW and 15kW models.
The units can operate in either constant current or constant voltage modes and accept either three-phase 400Vac or 440Vac inputs, with passive power factor correction.
The high-voltage model features include a wider AC input voltage range for 400Vac input (342Vac – 440Vac), higher efficiency (> 93%), faster up/down-programming response time (17ms/20ms), output isolation up to 1500V, built-in isolated remote analogue 5V/10V programme/monitor, two-wire parallel current share, lighter weight (<31.7kg), cooling fan speed control for reduced audible noise and extended fan life.
Higher power systems can be configured using the Master/Slave "Advanced" Parallel operating mode.
This mode configures the Master unit to be the single point for programming, measurement and status of the total current of the paralleled system. Thus, four units can operate as a single 60kW power supply.