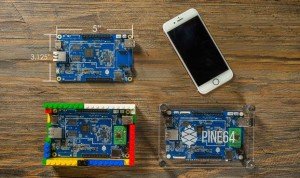 Built around a 64-bit quad core ARM Cortex A53 1.2 GHz CPU, the PINE A64 measures just 3.125 x 5-inches.
These are open source platforms for both hardware and software, and will run the 64-bit version of Android Lollipop 5.1.1 and Linux.
Designed for DIY projects, and exploration into coding and programming, the modules can be used for a video game console, 4K streaming media player, robotics project or connected home device.
There is a dual core Mali 400 MP2 GPU and 512MB DDR3 SDRAM on-board.
Hardware security enables trustzone security system, Digital Rights Management (DRM), information encryption/decryption, secure boot, secure JTAG and secure efuse.
For $19 you also get a 1GB DDR3 memory, optional system upgrades, a 5 Megapixel camera port, 4 lanes MIPI Video Port and a Touch Panel Port.