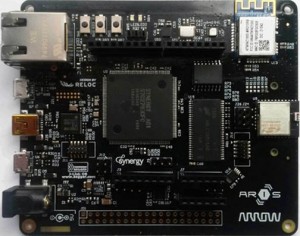 Arrow developed the ARIS board with the Italian design house Reloc.
The Renesas Synergy Platform offers developers the benefit of qualified hardware and software, and Arrow said the aim with the ARIS board is to reduce time to market for new projects.
Based on a Renesas Synergy S7 MCU with 240MHz ARM Cortex-M4 core, the ARIS board also has a 3-axes accelerometer and 3-axes gyroscope for position and motion sensing.
Communication with other devices and the Cloud is enabled via an Ethernet 10/100 port, Bluetooth Low Energy (BLE 4.1/4.2) and Wi-Fi b/g/n support. NFC tag functionality is also included along with a crypto bootloader and support for over-the-air (OTA) firmware updates.
Synergy offers an operating system, a variety of qualified stacks, libraries and consistent APIs.
David Spragg, vice president semiconductor marketing and engineering, Arrow EMEA commented:
"The combination allows developers to get started quickly and concentrate on their own area of specialism rather than having to recreate the basic building blocks."