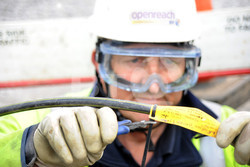 The move is interesting because it will use an internet-based network which is claimed to provide greater flexibility for the broadcaster. It will allow the BBC to introduce data-hungry formats – like Ultra HD (4K), 360-degree content.
The new network will allow the BBC to add extra services and capacity can be added for major events, such as a general election or the Olympics at a lower cost than with the current system.
Matthew Postgate, Chief Technology Officer at the BBC, said:
"This is an important step towards building an internet-fit BBC and will allow us to provide more interactive and personalised content in the future. At a time when the BBC faces serious financial challenges, it will also save us tens of millions of pounds so we can focus more of our money on the programmes and services for licence fee payers."
The new network will link all BBC UK sites, including 21 broadcasting centres and local radio stations, as well as connecting to the main overseas bureaux and partners for playout of the BBC's TV channels. It will carry all video, audio and data traffic, as well as fixed line telephony, ISDN and broadband services.
Mark Wilson-Dunn, Global Vice President of BT Media and Broadcast, said:
"We are delighted by the BBC's decision to choose us as their next generation broadcast network partner. Both of our organisations have a vital part to play in making the best use of advanced technology to support and enable the ever-accelerating evolution of broadcast media."
The current broadcast network is provided by Vodafone UK through the BBC's principal technology services provider, Atos. Vodafone will continue to provide a data centre, telephony services and additional connectivity in London.