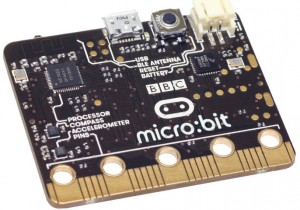 The pocket-sized computer, which is built around an ARM-based NXP microprocessor and Bluetooth chips from Nordic Semiconductor, is being delivered to thousands of 11-12 year old children from today as one million devices start arriving in UK schools.
Simon Segars, CEO of ARM writes:
"The BBC Micro started me on my journey towards a career in technology and the BBC micro:bit can have the same effect on children receiving their devices from today.

"The ability to code is now as important as grammar and mathematics skills and it can unlock important new career options. I can easily imagine a new wave of design entrepreneurs looking back and citing today as the day their passion for technology began."
Micro:bit is the BBC's project to give the UK's schoolchildren digital skills by giving a coding device to all Year 7 children across the UK for free.
According to Fiona Iglesias, project manager from the BBC, not only can the micro:bit be programmed and controlled from the smart phone, but pupils can use the micro:bit to control the camera on the smartphone.
BBC says the aim is for the micro:bit to be programmed by using a smartphone, tablet  or  PC to write the program, which is then compiled and downloaded onto the BBC micro:bit.
The Nordic nRF51822 Bluetooth Smart SoC on the Micro:bit, also integrates an ARM Cortex-M0 processor core.
See also: Micro:bit reunites BBC and ARM for grand education initiative