The half-percent increase nudged worldwide R&D spending by semiconductor companies to a new record-high level of $56.4 billion in 2015 from the previous peak of $54.1 billion set in 2014.
Growing concerns about the weak global economy, slumping sales in the second half of the year, and unprecedented industry consolidation through a huge wave of merger and acquisition agreements weighed on semiconductor R&D spending in 2015.
The new 2016 McClean Report shows Intel continuing to lead all semiconductor companies in R&D spending in 2015, accountin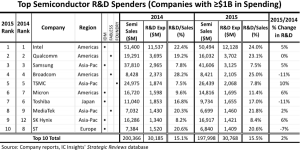 g for 22% of the industry's total research and development expenditures.
Following Intel in the 2015 R&D ranking are Qualcomm, Samsung, Broadcom, and the world's largest wafer foundry, TSMC. The top five spenders were unchanged from 2014, but below that point, the rankings of most companies were shuffled.
Micron Technology moved up to sixth in 2015, swapping positions with Toshiba, which fell to seventh in the new ranking. MediaTek went from ninth in 2014 to eighth place, while SK Hynix climbed from 12th to ninth in 2015. ST slid from eighth in 2014 to 10th in 2015, and Nvidia fell out of the top 10 to 11th place in 2015.
The top 10 in the R&D ranking collectively increased spending on R&D in 2015 by about 2% compared to the half-percent increase for total semiconductor R&D expenditures in the year. Combined R&D spending by the top 10 exceeded total expenditures by the rest of the semiconductor companies (about $30.8 billion versus $25.6 billion) in 2015—something that has continued to hold true since 2005 and probably well before that.
Intel's R&D expenditures grew 5% in 2015, which is significantly below its 13% average increase in spending per year since 2010 and slightly under its 8% annual growth rate since 2001, the new report says. Underscoring the growing cost of developing new IC technologies, Intel's R&D-to-sales ratio has climbed significantly over the past 20 years. In 2010, Intel's R&D intensity level was 16.4% of revenue spent in research and development compared to 24.0% in 2015. Intel's R&D-to-sales ratios were 14.5% in 2005, 16.0% in 2000, and just 9.3% in 1995.
With worldwide semiconductor sales falling nearly 1% in 2015 to $353.6 billion and R&D spending rising 0.5% to $56.4 billion, the industry's R&D-to-sales ratio grew slightly to 16.0% from 15.8% in 2014. Since 2000, the semiconductor industry's annual R&D-to-revenue ratio has average 16.0%.
The 2016 McClean Report forecasts semiconductor R&D spending to grow about 4% in 2016 $58.9 billion and reach $76.3 billion in 2020, which would represent a CAGR of 6.7% from 2015. By between 2016 and 2020, the semiconductor industry's R&D-to-revenue ratio is expected to average 16.4% compared to 16.2% in the 2011-2015 time period.