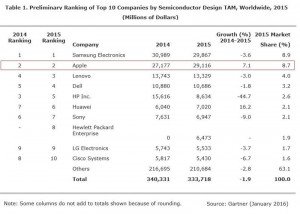 Combined, the two companies spent $800 million more than last year but, while Apple's share grew by 7.1%,  Samsung's share declined 3.6%. Apple is now running neck-and-neck with Samsung.
"Samsung Electronics and Apple have topped the semiconductor consumption table for five consecutive years, but the growth of Samsung's design total available market (TAM) was lower than the total semiconductor market in 2014 and 2015," says Gartner's  Masatsune Yamaji.
"Samsung and Lenovo, the fastest-growing companies over the past five years, decreased their design TAM in 2015 and the risk of revenue declines from the strongest customers for semiconductor chip vendors is increasing."
The top 10 companies bought $123 billion of semiconductors, to account for 36.9%of semiconductor chip vendors' worldwide revenue in 2015. This was down from 37.9% in 2014, which was worse than the semiconductor industry's global total decrease of 1.9%.